www.musicabrasileira.org
"Heloísa Fernandes - Fruitful Combinations"
Reviewed by Kees Schoof
April 2005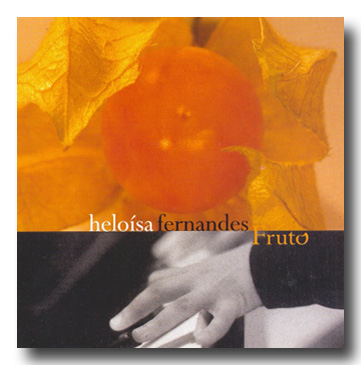 After listening to this album, Fruto, it is hard to understand how it is possible that the name of Heloísa Fernandes is so unknown. She is an incredible pianist, an outstanding jazz musician with a marvelous taste for music.

It was her mother who guided her during her first contacts with the piano, at age five, the beginning of a long road of studying and perfecting skills. She completed her piano studies with distinction at the Conservatório Dramático e Musical in São Paulo, followed by studies in composition, harmony, orchestration and teaching at the Centro Livre de Aprendizagem Musical. Heloísa participated in various daring project. As part of a duo with percussionist Ari Colares, she performed ethnic and religious music. Together with pianist Benjamim Taubkin she performed in the project "Pianos em Duo." Later she was invited by Ari Colares to join in with the "Percussionistas" project. Meanwhile Heloísa was among the 5 finalists at the 2001 Prêmio Visa, Brazil's prestigious music award (that year won by Yamandú). It is clear that the pianist/composer knows her art very well. At this first album there is an impressive proof of that. You can't help thinking about Eliane Elias when you listen to Heloísa. Not because the two Brazilian pianists sound alike, but because you wonder how it's possible that Eliane Elias is world wide known while only few people know Heloísa Fernandes. Heloísa is most certainly a musician deserving wider recognition. On the other hand we should be glad she decided to stay in Brazil, a decision that makes her music sound much more authentic, or, if you wish, personal.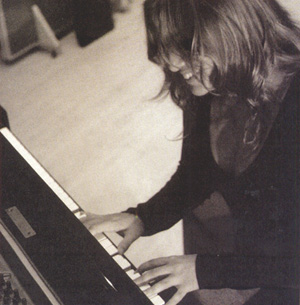 On this cd the pianist can be heard in various strengths and various musical styles. An important part is played by bassist Zeca Assumpção, who gets a chance to show his indisputable mastership. His sound is beautiful and his bass lines are perfectly chosen. It seems like he and Heloísa speak the same musical language. A good choice! The album starts with a rather complex own composition, "Vôo," featuring the flute of Teco Cardoso. Various complicated rhythm schemes are linked together in an un-Brazilian jazzy way. A piece of conservatory jazz, performed in a quintet setting, showing the masterful skills of the pianist/composer. The arrangement "Rosa" (Pixinguinha) gets is breathtaking. An absolutely beautiful rendition in a duo setting with bassist Zeca Assumpção. It forms the most touching moment on this album, especially when you listen to it carefully in a dimmed room with no disturbing background sounds. It's here that the pianist shows how much of herself she's able to put in her performance. A delight! The next tune ("Colheita") is a big surprise. The same duo is joined in by the master of the percussionists, Naná Vasconcelos. His typical percussion/vocal addition gives the composition a playful character. Vasconcelos does a great job, especially with his vocal question and answer scatting. On "Criança," Heloísa is accompanied by the cello of Alceu Reis and the violin of classical musician Cláudio Cruz. The composition is a clever mix of jazz and classical music. Between all this variation, the title song of the album, "Fruto", serves as a break in a normal trio formation with the addition of percussionist André Magalhães (Sergio Reze on drums and Assumpção on bass), followed by a stormy arrangement of Caetano Veloso's "Trilhos Urbanos." We hear Heloísa in a free piano style, accompanied only by the very attentive percussion of her long time musical friend Ari Colares. The left hand of the piano player steadily underlines the somewhat nervous character of this composition, while the right hand takes care of a great piece of improvisation. Again in a trio formation (Assumpção on bass, André Magalhães on drums), "Jasmin" brings a moment of contemplation, before the album closes with six miniatures joined together as a suite. "Suíte das Meninas" is accompanied only by the bass of Zeca Assumpção. Six very short improvisations by two remarkably talented musicians. Heloísa Fernandes is most certainly ready to be discovered and valued by a large jazz audience. What we hear on this debut album is of very high standard. I can't wait to learn about the next project of this amazing pianist.
Kees Schoof
www.musicabrasileira.org