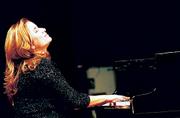 Brazilian Heloísa Fernandes
Heloisa Fernandes
will make her international debut today at Spoleto Festival USA's Wachovia Jazz Series.
The highly regarded pianist has never performed outside her native Brazil. She is the next in the growing line of Brazilian musicians that series producer Michael Grofsorean has brought to Charleston stages.
Regular Wachovia fans might remember the likes of Virginia Rodriguez, Renato Braz, Monica Salmaso and Andre Memari, all Brazilian musicians who made American debuts at Spoleto.
Fernandes
, also a composer, is very enthusiastic about her music. She is reflective and introspective, looking to discover beauty and freedom. Then she shares.
"I like to 'describe' images and sensations," she said in a recent e-mail. I feel like I'm always looking for different ways, different feelings, in my own way, to express myself while I'm playing."
And she's well prepared. Grofsorean said, "She's got three degrees. She's got a lot of tools. It (her playing) portrays her creative depth, and at the same time she's upbeat."
Fernandes
' performance represents the series' attempts to introduce and showcase different jazz vernaculars from around the world.
"She's a very skilled interpreter of the Brazilian literature and is extending it in her own writing," Grofsorean said. "I really like her composition, too. The program will be split between interpreting Brazilian standards as well as her own compositions."
Local singer Leah Suarez recently heard some of
Fernandes
' music for the first time, and she liked it. "When I first popped in the CD, I was pleasantly surprised," she said Saturday. "Her piano playing is very percussive but also sensitive."
Suarez, who leads the organization co-producing the Piccolo Spoleto Jazz Series, said she loved the balance between
Fernandes
' muscular left hand and her lyrical right hand.
"It seemed more Brazilian classical music, but you can definitely hear the traditional Brazilian folk rhythms in her music. Her playing is impeccable. ... I even heard a little (George) Gershwin influence. She used major (chords) against minor (chords), which is typical of Brazilian harmony, and some of her chord usage has a jazz feel. I hope people going to the concert aren't expecting bossa nova."
Fernandes
will perform two more shows on May 27 and another two on May 28, all at the College of Charleston's Simons Center for the Arts.