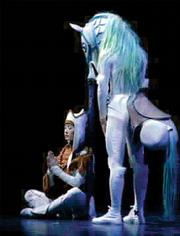 THEATRE DU CHALET
Monkey: Journey to the West,' a high-octane 'circus opera' performed in Mandarin by a cast of 45 strong, will make its American debut at the 2008 Spoleto Festival USA.
Launching its 32nd season with the celebration of a $6 million renovation of Memminger Auditorium, the 2008 Spoleto Festival USA will stage the largest number of productions since its founding in 1977.
Working with a $7.8 million budget, the festival will be held May 23-June 8 and will feature 45 productions in a program of 140 performances, including opera, theater, dance, classical music and jazz.
The eclectic program includes a new staging of the slave ship opera 'Amistad'; a blend of Western popular music with Chinese instrumentation, animation and acrobats in the musical theater piece 'Monkey: Journey to the West'; and eight choreographers from across the globe, including Switzerland, India, France, Africa and Finland.
In an unusual turn of events, former festival chamber music star flutist Paula Robison will perform in the jazz program with Brazilian percussionist Cyro Baptista and guitarist Romero Lubambo in a melding of bossa nova and Bach.
Also during the festival, performance artist Laurie Anderson will present her work, 'Homeland,' a pastiche of stories and music concerning America's fear-evoking obsession with information and security.
Nigel Redden, festival general director, notes that Memminger will take its place as one of Charleston's premier venues. Memminger's 750 seats can be arranged in various configurations using a movable wall to alter spaces.
In this way, the Bank of America Chamber Music Series, directed by Charles Wadsworth, can be performed in an approximately 500-seat space before returning in a future season to the Dock Street Theatre, now undergoing renovations.
Opera
Composed by Anthony Davis with a libretto by writer Thulani Davis, 'Amistad' premiered at the Chicago Lyric Opera a decade ago and has not been seen since. The capture of the slave ship Amistad off Long Island, N.Y., in 1839 and the subsequent trial of the captives found on the ship form the basis of the libretto.

The opera will be conducted by Emmanuel Villaume, Spoleto Festival USA's music director for opera and orchestra, and directed by Sam Helfrich of New York.

The other opera to be staged is Gioacchino Rossini's 'La Cenerentola,' which premiered in Rome in 1817. A retelling of the Cinderella story using mistaken identities as its theme rather than fairy godmothers, it will be directed by Charles Roubaud with video artist Gilles Papain. Italian conductor Matteo Beltrami will lead the Spoleto Festival USA Orchestra.
Theater
Theater offerings this season are traditional, classical and cutting edge.

Spoleto Festival USA will mark the American premiere of 'Monkey: Journey to the West,' the brainchild of Chinese director Chen Shi-Zeng ('Peony Pavilion' at Spoleto 2004) and British artists Damon Albarn and Jamie Hewlett, the men behind the award-winning animated band Gorillaz. 'Monkey' derives from a 16th-century Chinese epic and has been called 'simply a piece of musical theater of the most spectacular kind' by The Times of London. It also was a hit in Paris in the fall.

The American premiere of 'The Burial at Thebes,' Nobel Prize-winning Irish poet Seamus Heaney's fresh translation of Sophocles' 'Antigone,' is to be performed outdoors at the Cistern at the College of Charleston. The tragedy will be performed by the United Kingdom-based Playhouse Theatre Company.

A hit at the Edinburgh Fringe Festival was 'Between the Devil and the Deep Blue Sea,' a series of quirky vignettes with prerecorded film in a macabre homage to silent movies. Also incorporating video will be 'The Great War,' to be performed by Hotel Modern, a Dutch theater ensemble.

Actor Marc Bamuthi Joseph, who has a national reputation for eloquent works that mesh movement and verse, views the globalization of hip-hop through a multimedia lens in his newest piece, 'the break/s.' And from New York comes pastiche artist Taylor Mac, who will present 'The Be(A)st. of Taylor Mac,' a commentary on subjects ranging from politics to matters of the heart.
Dance
With eight choreographers, dance this year is definitely in the spotlight.

Directed by Finnish resident choreographer Jorma Elo, the Boston Ballet will perform Balanchine's timeless 'Concerto Barocco,' providing an intriguing contrast to Twyla Tharp's pulsating 'In the Upper Room.' Both will be accompanied by the Charleston Symphony Orchestra.

From Switzerland comes Ballet du Grand Theatre de Geneve, directed by Philippe Cohen in a triple bill showcasing three international choreographers: Saburo Teshigawara, Sidi Larbi Cherkaoui and Andonis Foniadakis.

Also, French-Algerian choreographer Heddy Maalem and his ensemble of 15 dancers from across Africa will perform Maalem's version of 'Le Sacre du Printemps.' Making her U.S. debut is Shantala Shivalingappa, who will offer ancient south Indian classical dance in three performances of 'Gamaka.'

Considered among the most innovative choreographers on New York's contemporary dance scene, Donna Uchizono will present pieces inspired by multiple influences ranging from African dance to the Tobas Indians of Argentina.
Wachovia Jazz
Seven jazz artists with differing interpretations of the milieu will include African-American vocalist Paula West, Brazilian pianist Heloisa Fernandes, Italian saxophonist Stefano Cocco Cantini, accordion player Daniel Mille, percussionist Gerry Hemingway and flutist Paula Robison.

The program 'Jazz Goes to Church' will feature pianist Cyrus Chestnut, who, with his trio, will explore the relationship between sacred and secular music.

Also, a concert will be performed by the Carolina Chocolate Drops, a band of African-American string players who played background music for the new Denzel Washington film 'The Great Debaters.'
Events return
Returning will be the Spoleto Festival USA Orchestra, to be conducted in two concerts by Villaume; the Westminster Choir under the baton of Joseph Flummerfelt, distinguished artistic director for choral music; the Music in Time series directed by John Kennedy; and the Intermezzi Series with classical music performed at St. Matthew's Lutheran Church.

Also returning is the 'Conversations With' series with Emmy Award-winning CBS 'Sunday Morning' correspondent Martha Teichner interviewing several principal Spoleto artists.