www.billboard.com
NOW HEAR THIS - November, 2005
By Katie Hasty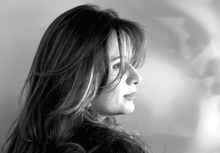 Heloísa Fernandes
Heloísa Fernandes cannot wait to play in the United States, just as soon as someone invites her. The jazz pianist is little-known outside of her home of São Paulo, Brazil, but her style travels well. Influenced by Bill Evans, Keith Jarrett and countryman Hermeto Pascoal, Fernandes applies improvisation and Brazilian styles to her brand of conservatory jazz.

With her formal studies in piano performance and what she says is her "great admiration for standards composers," the 37-year-old's fusion of old and new proves unique on her debut full-length, "Fruto," released on local label Maritaca Records.


"Music is everywhere," she says. "Life can teach you a lot of music—establishing contact with people and getting closer to your own desires and sensations is the first step to get inspired."