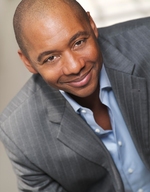 Branford Marsalis
A word to the wise concert presenter: Scheduled acts that are nearing the end of their tours.
On Sunday at the Alys Stephens Center, jazz saxophone great
Branford Marsalis
and the Sao Paolo-based Philarmonia Brasileiras played their 27th -- and final -- concert together since Oct. 2.
The program, titled
Marsalis Brasilianos
, consisted of music by Heitor Villa-Lobos, Darius Milhaud (in Brazilian mode) and
Lea Freire
. The performance, slick and polished as it could be, found
Marsalis
in rare classical form. Though supple and lithe as a jazzer, he channeled his considerable talents to the written score, while refusing to sell his musical soul to the classical gods.
Villa-Lobos'classical-leaning "Fantasia," for soprano saxophone and orchestra, underscored the differences between the two worlds.
Freire
's "
Vento em Madeira
," with its infectuous beat and big band ambiance, sent
Marsalis
and the orchestra to their respective jazz and Brazilian roots. A seductive, soaring arrangement of "Bachianas Brasileiras No. 5" for soprano saxophone and strings removed all categorical definitions.
Any complaints about the concert would have to be leveled at the orchestra's even-keeled playing in orchestra-only works such as Camargo Guarnieri's "Abertura Concertante" and Villa-Lobos' "Bachianas Brasileiras No. 9." No doubt these are fine musicians, with a first-rate conductor in
Gil Jardim
, but often their playing remained at subdued levels when it should have soared. It was livelier with
Marsalis
in the section for Milhaud's raucous and chaotic "La Creation du Monde," and it gave the saxophonist the deference he deserved in Milhaud's "Scaramouche," two movements of which were deftly accompanied by pianist Nahim Marun.
But what many listeners took away from the concert were two encores. The first, Milton Nascimento's "Vera Cruz," brought out the inventiveness and technical genius of
Marsalis
' solo work. The evening ended with an arrangement of the Brazilian love song, "Beatriz," a gentle farewell to a long tour.