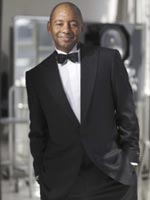 Branford Marsalis
Photo: Palma Kolansky
Listeners looking for a quick, visa-free jaunt to Rio had to cool their heels until the end of Saturday's Orchestra Hall program by the Orquestra Philarmonia Brasileira and consummate guest saxophonist
Branford Marsalis
. But their patience was rewarded with a closing work (
Léa Freire
's piquant "Wind in Wood") and three seductive encores by Brazilian pop icons that evoked, to varying degrees, the irresistible tropical cocktail of sun, sea, sand and sweat.
En route to its steamy dénouement, the concert -- led by Gil Jardim, the orchestra's founder -- offered an agglomeration of pieces, most with saxophone, by Heitor Villa-Lobos, Brazil's greatest and most prolific composer, and Darius Milhaud, whose sojourn in Rio (as secretary to the French ambassador) left a permanent imprint on his music.
The young ensemble's current U.S. tour -- 28 performances in 40 days -- was occasioned by the approaching semicentennial of Villa-Lobos' death. Jardim, also a scholar, specializes in Villa-Lobos' music, which at its best sounds torrential, fusing folk and folklike materials with a modernized romantic sensibility. Yet that music was not well-represented on Saturday's program, which comprised the neoclassic Fantasia for Saxophone and Orchestra (hardly first-rank, though it profited from
Marsalis
' wonderfully burnished tone) and two of the nine "Bachianas Brasileiras," in which the composer explores the affinities between the indigenous music of his vast country and his beloved Bach. (In No. 5, Villa-Lobos' best-known piece,
Marsalis
' sax replaced the original soprano, with some sacrifice of soulfulness; in the more elusive No. 9, the string playing was occasionally shaky.)
This allowed Milhaud --"a Frenchman from Provence, and by religion a Jew," as his autobiography famously puts it -- to upstage his friend. Never mind that the roots of Milhaud's bluesy "The Creation of the World" (1923) are in Harlem, not in Rio: the piece is a stunner. Jardim and his band of 18 (
Marsalis
among them) captured the throb, the raucousness, the sheer pandemonium of the thing. Strategically placed at the start of the second half, it raised the evening's temperature.
Milhaud's "Scaramouche" (in the composer's version for alto sax and orchestra) finally let
Marsalis
be
Marsalis
. Playing from memory, he gave the music an improvisatory air. The wistful middle movement was elegantly turned; the concluding, samba-driven "Brazileira" was molten gold.
Hooked? Rio's next Carnival begins Feb. 22.
Larry Fuchsberg writes frequently about music.